Experience the Power of Professional Lighting
In observance of Memorial Day, Customer Service will be closed on Monday, May 30, 2022.
If you are a lighting professional, find out how to gain access to AMP® products, expert support, and valuable resources.
AMP® products are only available through authorized lighting professionals. Contact us to find an AMP® Pro.
---
Explore the Anatomy of Precision!
AMP® ONE Landscape Lighting

Heavy Duty Cast Brass Construction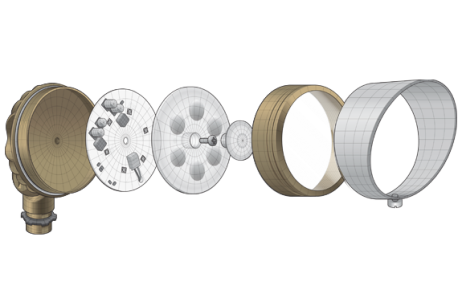 Heavy Duty Cast Brass Construction
AMP® ONE fixtures are engineered to survive a lifetime in the harsh outdoor environment.
Resists corrosion
Weathers beautifully
Will not bend or break
AMP® fixtures are built to last as long as the LEDs they house. The cast brass* body, knuckle, and shroud ensure protection from physical and chemical abuse. The precisely engineered internal components guarantee protection from water damage and corrosion.
*Note: Cast brass AMP® ONE fixtures feature a lifetime warranty. Aluminum models (with super-durable powder coat finishes) have a 5-year warranty.

Adjustable Brightness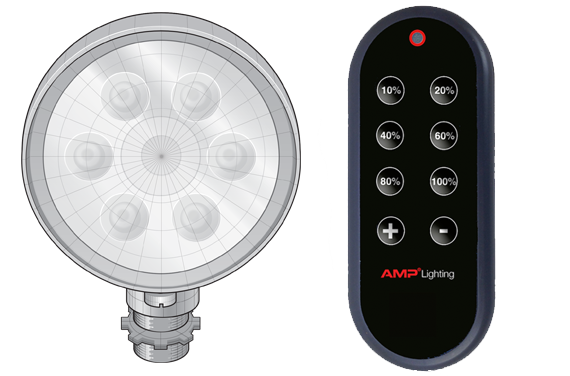 Adjust Light Levels for each Fixture
Fine-tune the brightness of each fixture to ensure perfect levels of illumination.
Wireless remote
No programming
Pre-set levels and fine-tuning
Empowers the designer
Using a proprietary Infrared dimming technology, light levels can be adjusted for each fixture independently. With a simple-to-use wireless remote, the designer can either jump to pre-set levels or fine-tune light levels with great accuracy.

Multiple Beam Angles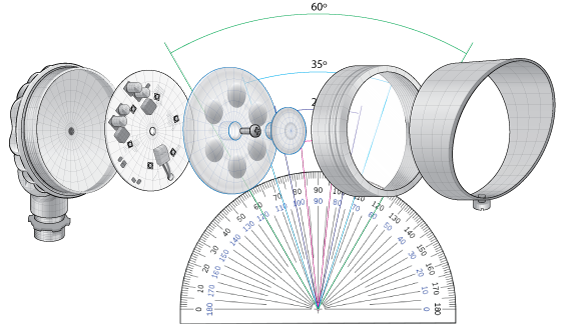 Select Beam Angles in the Field
One fixture – 4 beam angles (17º, 24º, 35º, and 60º)* using lenses that are quickly and easily replaced.
Easy-to-replace lenses
Exceptional optical performance
No special tools required
AMP® replaceable optical lenses are precisely engineered to produce light beams of exceptional quality – evenly dispersed light distribution, soft edges, and beams free of distortions, reflections, and aberrations.
You get the advantage of superior integrated LED technology with the benefit of changing beam spreads – extraordinary flexibility for the landscape lighting designer.

Superior LED Technology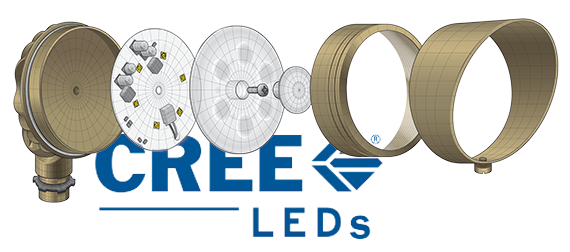 LED Circuits – Designed, Engineered, and Made in the USA
AMP® Lighting in-house engineers led the design efforts to produce AMP® One technology – the industry's smartest approach to landscape lighting fixture control.
Designed by AMP® engineers
Inspired by landscape lighting professionals
Made in the USA
Backed by a lifetime residential warranty
Using USA-made circuit boards, drivers, and Cree® LEDs, AMP® engineers created lights that are energy-efficient, long-lasting, and that leverage the most advanced control technologies available.

Heavy Duty Water Tight Seal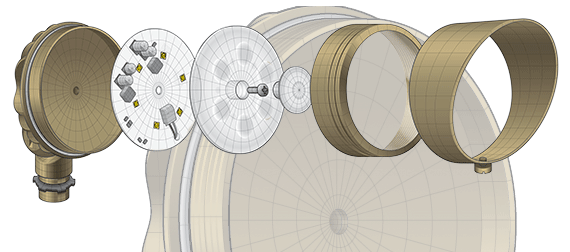 Watertight for a Lifetime of Trouble-Free Operation
AMP® fixtures are designed to conform to stringent Ingress Protection (IP) standards. They are engineered to prevent the corrosion that results from moisture intrusion.
Extra-long threads for tight fits
Durable and stable O-rings
Wire ingress points fully sealed
LED circuits conformally coated
Precise AMP® engineering and use of quality components ensures that circuits remain dry – for a lifetime of trouble-free opera

Adjustable Glare Guard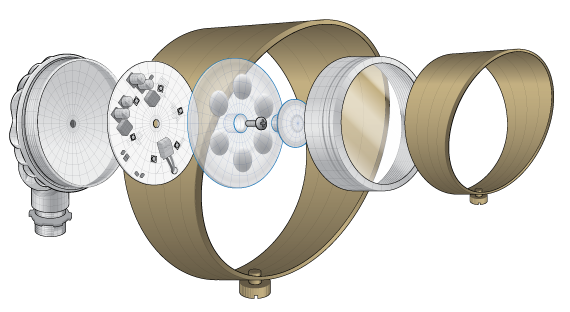 Simple Glare Control for the Designer
A great lighting design is about seeing the effects of the lights and (in most cases) not the lights themselves. AMP® accomplishes this by constructing fixtures that hide the light source. Each fixture type features specially designed glare guards that serve that function.
Glare guards are removable and adjustable
Can be extended or retracted
Can be rotated 360º
No special tools required
Landscape lighting designers know that unless they hide the source of the lights, viewers may be distracted or discomforted. AMP® glare guards give designers this extra measure of control.
What AMP® Pros are Saying
Experience the Power of Professional Lighting
Whether you are a homeowner looking for a skilled pro, or a skilled pro looking for a homeowner client - AMP® can help.
PROFESSIONALS
Become an AMP® Pro
Access professional products with lifetime warranties that give you design control in the field.
HOMEOWNERS
Find an AMP® Pro
Complete a simple form and we will connect you with an AMP® Pro in your region.
QUESTIONS?
Contact Us
Send us your questions, and one of our customer service representatives will respond asap.